After two-month delay I spent in Bogotá for my bike had been stolen, the journey continued. A week before Misha told me about his decision to come back to Russia. Having guessed that some kind of mysterious force wants me to stay alone, instead of looking for a fellow traveller, I started to pack my bags. I have to carry somehow the baggage, which was earlier divided between the two. As it became obvious later, it wasn't the only difficulty of a single travelling.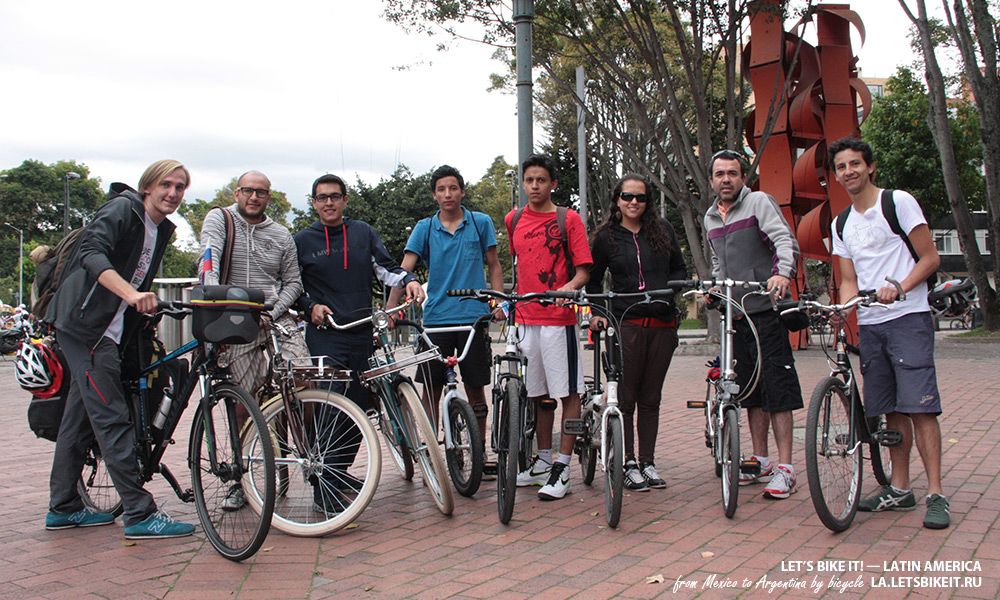 I planned my leaving of the capital of Colombia on Sunday, July 7th, so as to enjoy a tremendous Ciclovia one more time. A day before I left a notice on Facebook, in which I asked everyone, interested in riding together from the park El Virrey through the blocked roads to the town gates, to be in the park by 11 a.m.
* Almost all pictures of this part of the journey have been lost, therefore in this article I used pictures I posted on Instagram.
Day 217.
Bogotá — Silvania, 75 km
I was seen off by 15 people. Among them were Catalina from Bogotá Cycle Chic and Hesus-David from the Department of Transportation of Bogotá. Taking pictures and putting stickers "Thank you, Bogotá!" on walls and posts, we were slowly moving towards the town gates. Little by little our number was decreasing — some of us prefered to leave the group earlier in order to get to the other end of the city whilst cars weren't allowed to the streets again. In the end of the day I wasn't left alone. As far back as May, Camilo offered me to stay at his uncle's hotel, situated in 75 km from the city.
A highway which led to the entrance of Bogotá run through its poor south districts. We were surrounded by true slums, the difference with the southern part was colossal. Even more distinct it was, when we crossed the border of the Colombian capital. The air. The pure air. For 2 month I spent in the megalopolis I used to gas pollution and heaviness of the air, but it seemed there as if I tore myself from a desert, escaped to an oasis and just couldn't get enough fresh air.
At first the road went upward. Taking into account 2 months of riding without baggage, the heat and a considerably increased weight of my bag, that ascending presented a serious problem. My organism was getting accustomed to the journey again.
When we were almost at the top of the ascent a group of bicyclists swept past greeting us with cries of joy and waving hands. Chance meetings with brothers-bicyclists are inspiring and always a pleasure. Keeping smiles on our faces, we got to the end of the ascent, and decided to have a rest.
— Wait! Wait! — a breathless cry we heard of an unfamiliar guy, who followed us, — Hi! I saw you, when we rode down and decided to get back. Are you the one from Russia, whose bicycle was stolen? I watched your story closely from the beginning. Stolen in Bogotá! I'm ashamed of it! May I take a picture with you?
A guy told us about his infinite love for bicycles and, having wished us luck, rode downward to catch up with his friends. A descent, which waited for us as well, led almost to the hotel of Kamilo's uncle. The road was quite a narrow one and I decided to ride right in the center of my lane, forcing cars from behind to slow down.
A room, a pool, and a substantial meal was arranged for us by Kamilo's uncle, who happened to be an avid bicyclist. He told us a bunch of stories about his trips through Columbia, recommended interesting roads and interesting places on my route.
Day 218.
Silvania — Girardot, 78 km
Having finished quite a long photo session and breakfast, I left the hotel alone, Kamilo rode back to Bogotá on his bicycle for his first working day was on the following Monday.
Because of the roadworks lots of cars got stuck in a jam. I bypassed them in an easy manner. Drivers and passengers recognized el ruso, which they were told about through many Colombian mass media agencies, and therefore honked at me and cried something from their windows.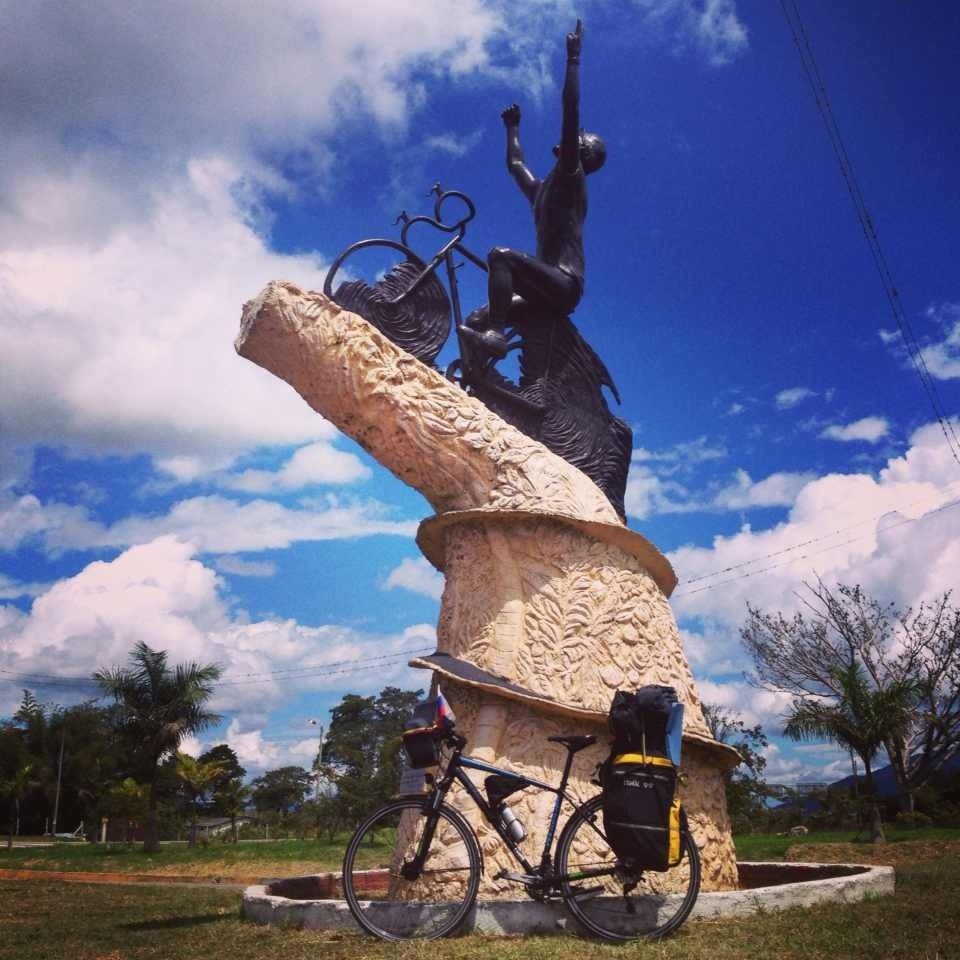 In about 30 kilometres, near the city of Fusagasugá, I run into the monument in the name of Luis "Lucho" Herrera, who became the first Colombian cyclist-winner of Tour de France in 1984 year. Lucho's story is common for a bicycle sport in Columbia: a poor family, the need to ride a bike in everyday life, daily coachings in the hills in natural conditions, victories in competitions, worldwide fame. Despite of the fact that almost every second person in Colombia could be a champion, sponsors opted for investing money in more spectacular football.
Wikipedia about Nairo Kintana, a Colombian star of Tour de France 2014
One more need of travelling alone arised — to picture myself or my absense in a shot.
Near the city of Melgar I stayed in a parador (big restaurants which look like canteens standing on Colombian highways) to have some dinner. A security officer watched TV and read newspapers, so he recognized me and offered to place my bike in a shade.
— Are you the one whose bike was stolen? — asked a boy, having plucked his courage.
— Yes, it's me.
— …, — a boy smiled broadly and run back to his parents, but in a minute or two he was back again.
— And it was you, who were written about in newspapers?
— Well, yeap…
Every time the boy happily run back to his parents and then came back with a new question. As I smiled to the parents, they came to me. I was asked to take a picture with me, their son and my bike. While we were taking pictures, another family came up.
— May I took a picture of you with our kids?
— Yes, no problem.
— And with me! — said a father impatiently.
The road went chiefly downward, so it was easy to ride. It was hard to call it beautiful, but I still found a pair of interesting places. One of them — is a long descending serpentine road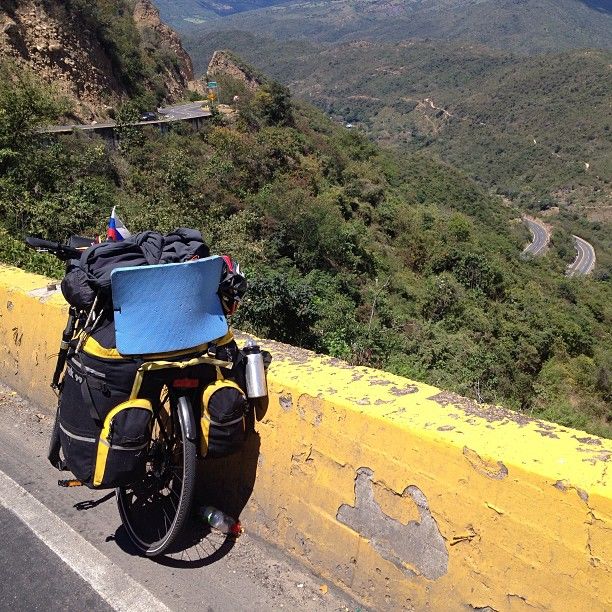 and the other road run under the jut of a rock, called "The nose of the Devil"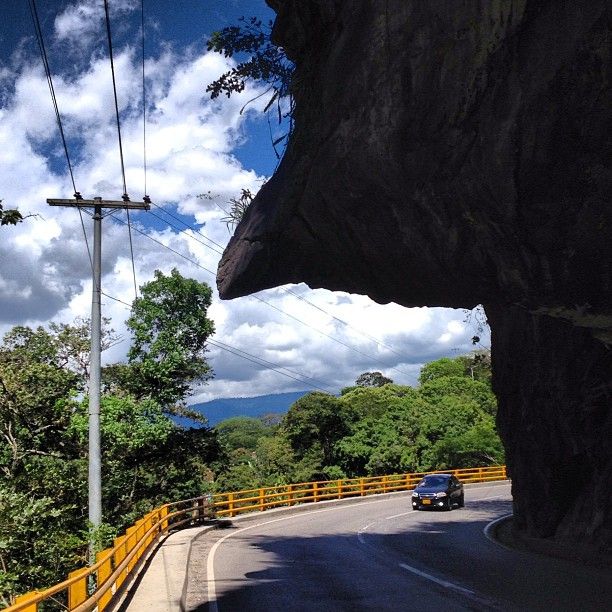 Having got to the city of Girardot, I started looking for a place to sleep. Receptions in many hotels were on the second floor. It wasn't comfortable to leave my two-wheeled friend alone even for 5 minutes after the story with a stolen bike.
— May I ask you to keep an eye on my bike? — I asked a woman with two kids, who happen to come by, for I thought it wouldn't be easy for her to carry off the bike especially with a bag, — I want to know the prices in a hotel.
— Will you be back soon?
— Yeah, as soon as I can, I'll ask about prices and be back.
The first day of loneliness ended happily, but there were tens of cities and thousands of kilometres.
Day 219.
Girardot — Ibagué — Armenia, 69 km
(+ 80 km on bus)
— You forgot that, — a hotel worker caught me up, holding my sweater, an adjustable wrench and a few other things I left on a couch.
— Thank you, but I don't need it anymore. My bag is too heavy, I want to lessen its weight.
To ride downward, having more than 30 kilograms of baggage in a bag (with allowed maximum of 25 kg), was an easy task, but on that day I had also to ascend for 60 km, and in addition — it was very hot day.
A few sportsmen-cyclists. A lot of long but gently sloping ascents and one — short and quite steep…, overall there's nothing special about that day, which I could remember. It was so hot therewith, that I felt myself pretty bad.
I got to Ibaga when the darkness fell. Near the city gates I stopped at a filling station to look over the map on my iPhone. In a few minutes a security guy came to be holding two caps of coffee.
— I thought, you wouldn't mind, — said he, offering on cap to me. — It's dangerous to stand here like that with your iPhone. May I help you?
— Thank you, I already know where to ride.
After Ibaga it was only 80 km to the next city but the road between them crossed the mountain range called "La linia". Having guessed that it would be an unnecessary waste of time and energy, I decided to know the schedule of busses. A saleswoman at the bus station told me, that it takes 3 hours to get to the city of Armenia, so that I could be in time to get enough sleep and to continue the journey in the morning.
At 1 a.m. I woke up and in the window of a bus I saw that we were trying to get through a traffic jam on a narrow mountain serpentine road. The bus arrived to Armenia at 4 o'clock. Instead of 3 hours it took 7 to get to the city.
Day 220.
Armenia — Tuluá, 91 km
The day I would call "nothing special". I wanted to sleep.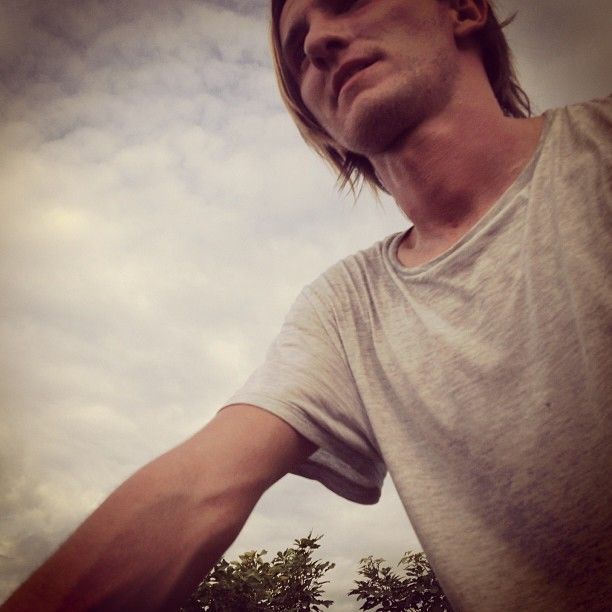 Day 221.
Tuluá — Cali, 95 км
My organism asked me to increase the duration of the sleep, therefore I managed to leave Colombian Tuluá only by the morning. Almost everyone in Bogota told that people in Cali steal even more, so I wanted to get there before night. The day was nice, but hotness made the task a bit harder.
There's the city of Boga In 40 kilometers from boring Tuluá — a tourist and a pilgrimage center. A lot of people told me good things about Buga, so I decided to have dinner and to take some pictures there.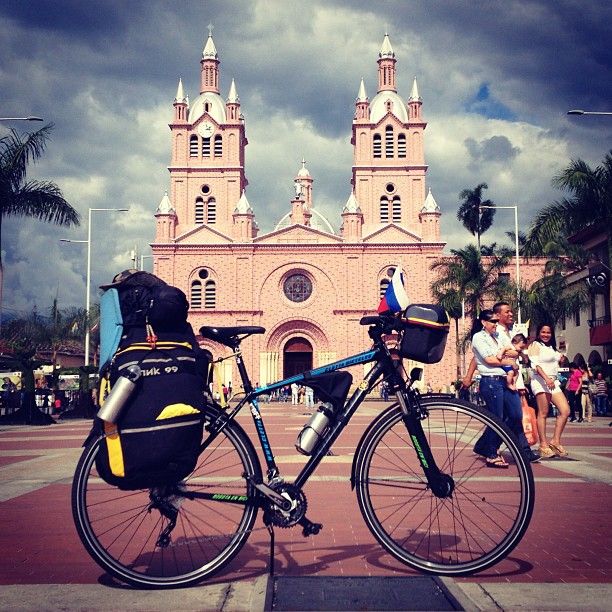 — Let's go with me to talk about drugs, mister, — a policeman told me on the square near the Basilica.
— Excuse me? — said I, going over my mind sins I made, but still didn't understand — What?
— We are running the company, we tell tourists how harmful drugs are.
— Oh,... thanks, but I'm in a hurry and not interested in drugs. I'm a sportsman, here's my bicycle.
— Ok, — said the policeman ruefully, it was obvious, that the number of those who'd like to listen to him wasn't that big. — I could take a picture if you want me to.
A policeman took a few pictures but half of my images were covered by his finger. We said goodbye to each other, I got on a bike and rode to the entrance of Buga, followed by approving looks of other policemen.
* * *
It was getting dark, but it was still more than 30 kilometers to Cali. Hadn't I had a reservation, which I made earlier, for lodgings for the night, I would've declined the idea to get to "the hottest" city in Colombia, but I had no choice since the reservation was made.
There were two roads leading to Cali. A shorter one went far from buildings, the other was a bit longer and run, as the map showed, through some districts. A shorter way seemed the only true.
Black flies run into my face, the road went through the dirty waste grounds. "Fuck, fuck, — thought I, — Fuck." There were practically no cars around, sometimes jitneys rode past and noisy motorcycles only. "Oh! Fuck, fuck!". Voices in my head kept repeating how dangerous Cali was and that people did steal things there. Having entered the city I felt a bit relieved, and on the following morning I was to fell in love with that city.
"Cali is Cali". Even Google knows.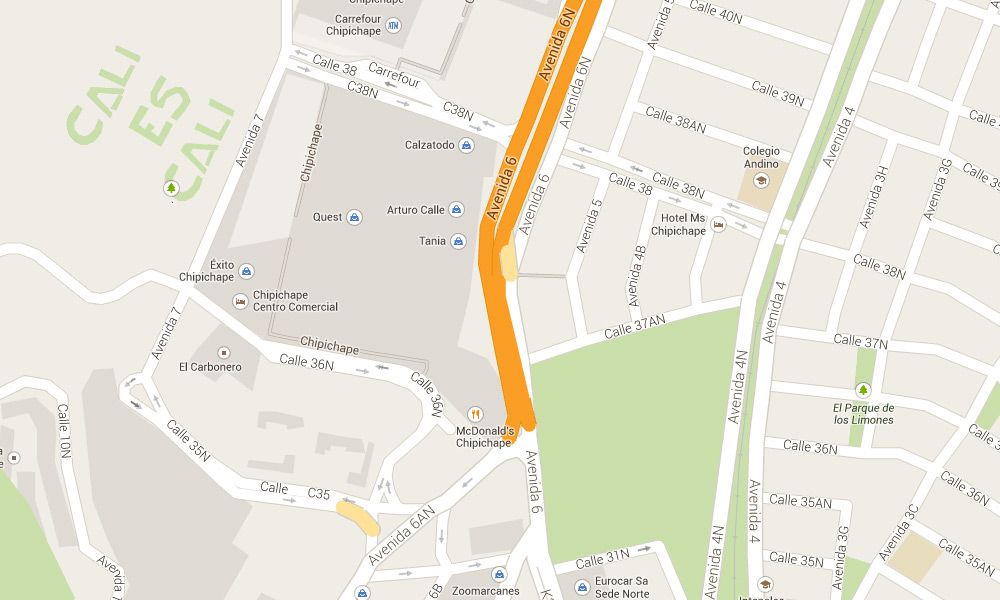 Translated by Erik Maker.
comments powered by HyperComments